link
Stories from the stands
They have menacing handles like "Darth Raider," "Big Nasty," "Mad Jack" and "The BoneLady," and certainly dress the part.
Others are known for their stalwart team devotion and iron-man runs of games attended.
Many are as much a part of the franchise identity as the players.
Collectively they are 32 of the NFL's most colorful fans, and these are their "Stories from the stands."
Since it is such a subjective selection, we asked each team to pick the follower that best represents the spirit of the franchise.
You'll be introduced to Steve LaPlanche, who hasn't missed a professional football game in Baltimore since 1956.
Bill Stieffel isn't far behind, having witnessed all but three Saints home tilts since the franchise started in 1967.
Julie Tucker is so enamored with her team from Jacksonville she's considered having her name officially changed to Jaguar Julie. Talk about dedication.
We hope you enjoy their tales, as told by our freelance writers Brett Borden, Anna Katherine Clemmons, Kristian Dyer, Tony Guadagnoli, Christopher Klein, Stuart Levine, Rich Martin and Doug Ward. I've even penned a few myself. Here's the Divisional breakdown:
Pittsburgh Steelers
Don Galla
From peewee football to church-league softball, Don Galla has always thrived on competition. He claims to have once benched 475 pounds in high school.
"I was into it big time," said Galla, 55, of Smithsburg, Pa., now in his 25th year as a power-company lineman. "I've been a sports nut all my life."
Call it good fortune, then, to have enjoyed a peak of NFL fandom during a time when his Steelers were on top of the world.
Indeed, it was the early 1970s when Galla started attending Pittsburgh games, and he rode the Steel Curtain all the way through four Super Bowl wins during that decade. (Well, technically, the fourth Lombardi came in January 1980.)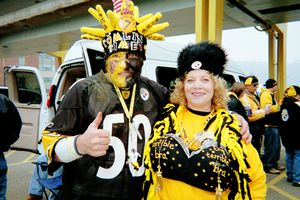 Thumbs up for Don Galla (& Gee Schwalenstocker).
His competitive nature spilled over to his appearance as a Steelers faithful, and he began painting his body for games. He gave it up in the '90s, however.
"Took too long," Galla explained. "It's kind of hard to paint my back. My mother used to help me out. Yeah, it's awfully hard to do the back."
But he won't be outdone when it comes to his hat, no way.
"It's remarkable. It's the ultimate hat," said Galla, married 33 years to his wife, Laura Beth, who we can only presume is very thankful that these days he only paints his face black and gold, to complement his hat.
A foam affair with large, yellow segments up on top like a bunch of bananas, the terrible chapeau is an eye-catcher and crowd-stopper.
"I can't tell you how many people ask me to stand in a picture with them," said Galla, who attends four to seven Steelers home games a season and managed to be in the stands when Pittsburgh appeared in Super Bowls XXX and XL.
So, yeah, Mr. Competitive's still got his hat … oh, and, along with fans of the Cowboys and 49ers, bragging rights for the league's most Super Bowl victories.
(woohoo! Someone from Section 517!! That's where woman in the pic sits!)