Steelers' Safety Ryan Clark Is Pittsburgh's Unsung Hero
BY BRYAN DEARDO ON DECEMBER 6, 2012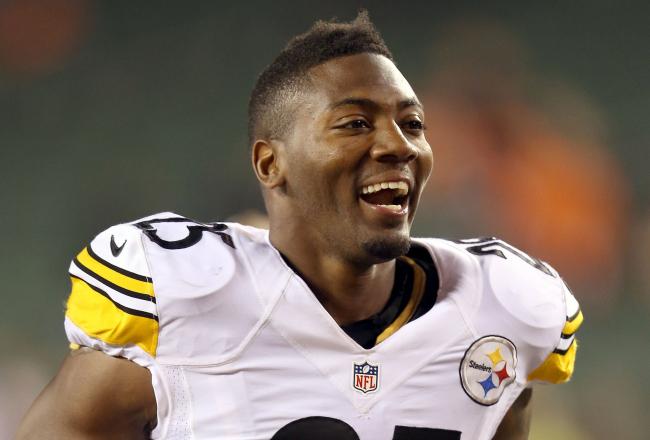 Safety Ryan Clark has become a dependable leader during the last several seasons.
t's easy to overlook great players when so many have passed through organizations like the Steelers franchise over the years. Too many of them don't ever get their due, or when they do, it's far too late.
Let's not miss the boat on safety Ryan Clark, who in many ways has become the heart and soul of the Steelers this season.
My first memory of the 11-year safety from LSU is from 2004, when Clark was still a young player suiting up for the Redskins. In the midst of a 15-1 season and hosting a struggling Washington team, I figured my first trip to Heinz Field would end in an easy victory. While Pittsburgh did outlast the 'Skins 16-7 behind a yeoman's effort by Jerome Bettis, Washington's gritty secondary left a lasting impression on me as I merged onto I-79 South on my way back to Columbus.
Specifically, I was impressed by the play of Redskin defensive backs Clark and Sean Taylor. While both players were young at the time, their sleeveless arms gave off an old school image that perfectly mirrored their play inside the hash marks. They looked freakishly similar when they stood together on the field, with their identical cat-like movements through the secondary mimicking each other without any missteps or flaws. Taylor died from gunshot wounds in 2007, but one can imagine that he is proud of his former teammate today.
Despite my affection for his play on the field from that day, I was a bit apprehensive when the Steelers acquired Clark via free agency following their Super Bowl XL run during the 2006 off season. Clark was to replace former starter Chris Hope, a solid player that turned in his fair share of big plays during the '05 campaign.
I wasn't worried about Clark's ability; what worried me was whether or not Clark had whatever it is to truly be a "Steeler". It's no new news here that the Rooney family prefers to draft and groom their players into starters by doing it the "Steeler Way" as opposed to finding good players through free agency. In fact, the 1979 Steelers are the only Super Bowl champion that drafted every member of the roster.
This causes many former Steelers (including Hall of Fame receiver John Stallworth in a NFL Films special back in 2006) to ponder whether or not its the Steelers who mold their players into what they want, or do they draft those players based on their research of each individual.
Since the free-agency explosion of 1993, the Steelers have seldom opened up to bringing in big-name players, with the major exceptions being home run acquisitions Jerome Bettis (from the Rams in '96) and James Farrior (acquired by the Jets in 2002). Both players were leaders on their respective sides of the ball and played essential roles in Pittsburgh's Super Bowl XL title. Both played 10 seasons with the Black and Gold while adding their own niche into Steelers lore.
Clark's career in Pittsburgh started off quietly, starting in just 18 total games in his first two years that included just six starts in '07 due to suffering a life-threatening setback against Denver on Monday Night Football.
A sickle cell trait that has been with Clark since he was a child led to him suffering a splenal infarction that night in Denver's high altitude. While the Steelers were focusing on another playoff run, Clark had his spleen and gall bladder removed, thus ending his season. The determined Clark was not about to miss out on 2008, spending the entire offseason rebuilding himself after losing 30 pounds after his surgeries.
2008 was a banner year for Clark and the Steelers defense, who were tops in the league in nearly every statistical category (including scoring and total defense) on the way to a victory in Super Bowl XLIII. While there were so many stories that were told about the Steelers that season- Tomlin's ability to mold Bill Cowher's players into his players, Ben Roethlisberger's ability to lead a team to a Super Bowl, etc.- that a good story was perhaps lost between Clark and Troy Polomalu.
It seemed that 2008- their third together in Pittsburgh- was the year that Clark and Polamalu began to really mesh as a unit the same way Clark and Taylor had years before in Washington. But this relationship is different in several ways. While Clark and Taylor had similar skill sets on the football field, Clark and Polamalu have different ones that perfectly compliment each other.
Clark is a throwback from the days of Donnie Shell and Jack Tatum, big, physical defensive backs that deliver a game-changing hit while also having strong coverage skills. He primarly stays at home quarterbacking the secondary also delivering blows to any receiver willing to cross the middle.
The freelancing Polamalu is Barry Sanders on defense with the ability to be seemingly everywhere all the time. Roving around the line of scrimmage before the snap, Polamalu's speed and sheer intelligence can enable him to either drop back in coverage or stonewall an opposing running back. It's what makes them different that makes Clark and Polamalu such a devastating force.
Clark and Polamalu have also become close friends off the field, with Clark often calling Polamalu his best friend on the team. It's that bond that fueled Clark to elevate his game whenever his close friend is sidelined with injuries, which has become more common over the last two seasons.Clark hasn't disappointed his friend, elevating his game and earning his first Pro Bowl bid in 2011.
The two's talent was on full-display during the 2008 AFC title game against the Ravens. Polamalu had a huge stuff of Baltimore quarterback Joe Flacco on a pivotal fourth down, and he later ended the contest with a pick-six in the games final minutes. Late in the game, Clark set the tone with a bone-jarring hit on Baltimore running back Willis McGahee that seemed to signify where both teams were heading. Pittsburgh won 23-14 on the way to Clark's first trip to the Super Bowl.
This season has been Clark's best thus far with seven passes defended, two interceptions, 60 tackles, and two forced fumbles in 11 games. But Clark's impact is much more than stats. In a season where so many Steelers Pro-Bowlers have succumbed to injuries, Clark has been one of the team's most consistent and reliable players. He has also become one of the team's vocal leaders, publicly cajoling his teammates to raise their level of play following the team's loss to Cleveland in week 12. Pittsburgh responded with their best outing of the year in a 23-20 upset win at Baltimore on Sunday.
There have been many great unsung players in Steelers history that includes Andy Russell, Carnell Lake, Levon Kirkland and Dermontti Dawson to name a few. While he's still with the Steelers, fans should relish in having a player like Ryan Clark, a player and person that epitomizes the "Steeler Way".
http://bleacherreport.com/articles/1...hs-unsung-hero